We are growing - now on the international stage too!
"The shortage of IT experts has long since affected not only the IT sector, but also the entire economy and also administration, public authorities and science," Bitkom President Achim Berg explained in the Handelsblatt of Nov. 28, 2019, adding that every unfilled position costs revenue, burdens innovative capacity and slows down digital transformation.
"The shortage of IT experts threatens the competitiveness of our entire economy," warned the manager. - This is not a new insight; after all, the number of unfilled IT positions has risen steadily in recent years to 124,000 (as of the end of 2019).
In the past, we were therefore only able to successfully complete some projects with the help of external service providers from Palestine, Poland and India, as well as with the support of freelancers. However, since the shortage of skilled workers will certainly accompany us for some years to come, we have finally decided to accept the challenge and go new ways. In order to stay true to our corporate culture, we have decided to open another location with our own employees - in addition to Göttingen, Hamburg and Berlin. And no, it's not Frankfurt or Munich.
Welcome to the Ukrainian Silicon Valley
The first innovation park in Kiev "UNIT.City" creates a place for the current and future business generation. In addition to resident companies, the largest innovation center in Central and Eastern Europe also offers external companies the opportunity to rent business premises and workstations, book events or establish a startup. Here, new paths open up for investors, partners and new technologies from all over the world.
Among other things, the site is home to the UNIT Factory IT School, which promises to educate its students at an international level. For the young talents and Ukrainian blackbits, the site offers state-of-the-art learning and working environments, restaurants within walking distance, its own sports studio, apartments, labs and event spaces: UNIT.City is a space to work, learn and live. In cooperation with UNIT.City you can already find partners like Microsoft, Amazon Web Service, Visa, HubSpot and many more.

We think bigger
We see a great opportunity for us in UNIT.City and have set up workstations in new and modern offices in the Ukrainian Innovation Park for our first four Ukrainian employees, who have already been on the job for a few days.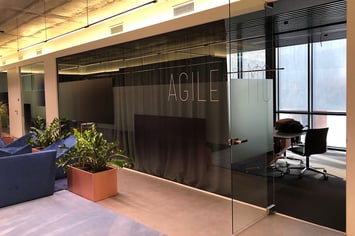 And things are going steadily uphill: we want to attract more qualified employees and expand the team in Kiev by the end of 2020. "We want to grow, think bigger, while maintaining our corporate culture. We are eager to share what we have built over thirty years and look forward to state-of-the-art technologies and the will of our new employees to secure a great place for themselves and Ukraine in the new digitalized world. We continue to build on this ambition with a branch office in an emerging international location and with competent employees. Step by step: well thought-out, efficient and successful!", says Managing Director Stefano Viani.
(from left Yaroslav Sayenko, Stefano Viani, Daniel Gerlach, Nadine Bisikati, Alexander Strizhakov, Vitalii Buga)